Sensitive Skin Safe
Our Luxury Handmade Soaps are made with skin loving oils and butter such as Olive Oil, Coconut Oil, Shea Butter. Each bar is specially formulated for sensitive skin. Glycerin is a natural byproduct of natural soap and a moisture attracting powerhouse. Cleanse, rinse, moisturize for the ultimate skin pampering.
Click to Shop our Luxury Handmade Soap
Foster Fields is a small business nestled in the scenic Grey County. Owned and operated by Carrie Foster who specializes in natural handmde soap and hand poured soy candles. Formulated for all skin types but specifically sensitive skin. Natural products made with high quality ingredients for the whole family.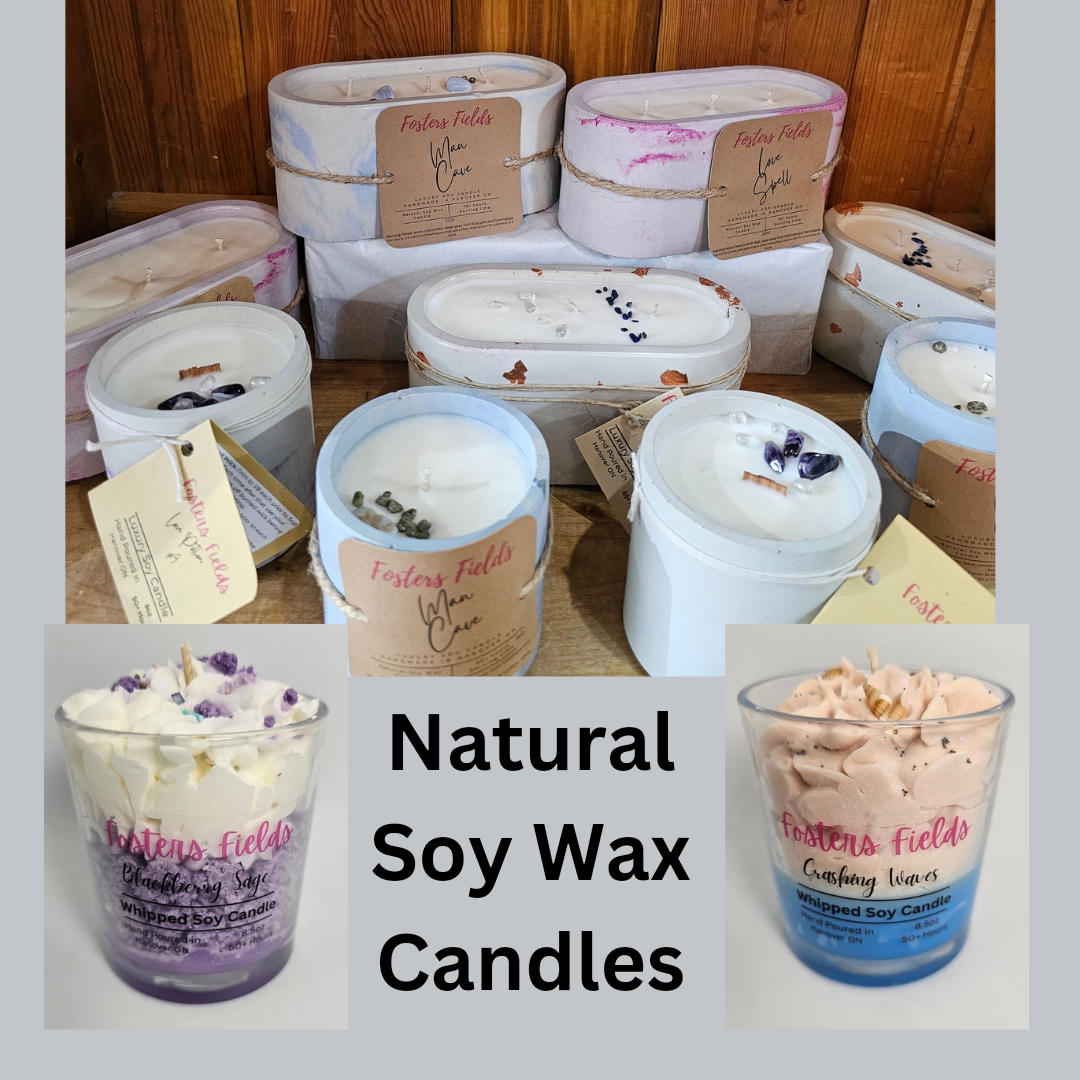 Scented to Perfection
Natural Soy Wax is clean burning, with so many hours of ambiance and its manufactured from a renewal source.
Did you know that Fosters Fields cement vessels are also made in house before filling with scented soy wax?
Enjoy a beautifully scented candle or try our Soy Wax Melts for a flame less scented home!
Shop Soy Candles
Fosters Fields takes great care in pouring each Natural Soy Candle. Explore our various candle options including our new cement vessels. Each vessel is carefully hand poured in Hanover Ontario. It is then cured, sealed and filled using the finest soy wax and fragrances.
Experience the difference a high quality hand poured soy candle can make in your home.
From our Home to Yours, Made with Love!
Fosters Fields is now offering wholesale options.
For more information on products available and details
Solid Dish Soap Gift Set
Regular price
Sale price
$21.00 USD
Unit price
per
Sale
Sold out
Share
Sparkling clean dishes in an easy to use package free formula!
View full details